May 7, 2023 By FCdevUser
Inclusive Actions for Growing Inclusive Teams
Inclusive Actions for Growing Inclusive Teams
May 7, 2023

For leaders who want to be more inclusive, it can be daunting to know where to start. One thing is certain: behavioural change is a powerful force in building inclusive leadership and growing inclusive teams.
When leaders make intentional choices to move beyond the status quo, they can become DEI catalysts within their own organisations, championing a new approach that positively impacts your organisation's culture, team engagement, and overall results. 
Lasting change starts with a new mindset and moves into action. As leaders take active steps to build an inclusive culture, here are some behaviours that can bolster inclusivity through daily efforts and decisions.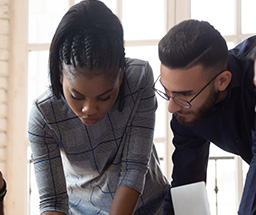 Activate the Power of Inclusivity
Knowing people's individual strengths and putting them into action is the first step toward change that recognises and validates diversity. Leaders who prioritise inclusion take time to understand and guide each person on their team, increasing overall engagement and performance.
Build intentional connections
It's easy for leaders to spend time with certain team members, such as high performers or those with whom they click personally. Inclusive leaders need to be deliberate about where they spend their time and build a personal connection with all their team members.
"We're talking about real, authentic human connection as a key to creating an inclusive culture and an inclusive team. But to get there, you've got to be a little bit deliberate and tactical," says Amy Parkin, Director of Learning Solutions at FranklinCovey. "Who have I not connected with recently? When am I going to put time into my schedule to make sure I connect with that person? What questions am I going to ask?"
When leaders make changes that build genuine connections, they're able to see people as more than their work product and envision how they could grow and contribute in new ways.
Engage with curiosity to adopt a growth mindset
The purpose of relationships with team members is not just to make people feel good, but to empower leaders to support team members by seeing their possibilities. This level of connection is possible with a few small behaviour changes, even for leaders of large teams who are strapped for time.
"It's about quality of time, not quantity of time," says Daniel Martin, Custom Solutions Architect at FranklinCovey. "If I'm intentional about it, I can achieve that level of understanding, even if I can only talk to someone for 30 minutes every week."
Leaders should take time with each team member to be curious about who they are, what motivates them, and how they want to grow. Insightful questions and thoughtful listening can lay the groundwork for strong relationships with everyone on their team. And once leaders understand what makes team members tick, they're positioned to offer individualised opportunities for growth.
Raise team members' visibility through recognition and advocacy
Some leaders think recognition is earned only through heroic effort or outstanding performance. Truly inclusive leaders, however, understand the power of giving credit for a job well done in the course of daily work—and it doesn't take huge changes to introduce regular recognition touchpoints.
Inclusive leaders create systems for people to publicly recognise one another's accomplishments or thank colleagues for helping solve a problem, baking visibility and validation into the organisational culture. In addition to department and team meetings, these spaces can include dedicated instant messaging groups, platform features, or human resource feedback channels.
Leaders can also raise a team member's visibility by telling others in the organisation about the great work they're doing, positioning their team members as experts, and suggesting others consult them with questions. "That creates networks and connections, it boosts visibility, and it also sends that signal that they're seen and their contributions are valued," says Martin.
Make the Change to Inclusive Leadership
Inclusive leaders can begin to shift their team and organisational dynamics by harnessing the power of behavioural change. Adopting a growth mindset about their people, building intentional connections with each team member, and raising every individual's visibility are key actions leaders can take to change actions and create an organisational culture where everyone's contribution matters. And when everyone contributes, everyone thrives.
---
Learn how to grow inclusive teams.
The right support smooths the transition to inclusive leadership. Learn how addressing unconscious bias can help your leaders thrive and increase performance—across your entire organisation.